Custom Boat Wraps & Graphics Victoria, BC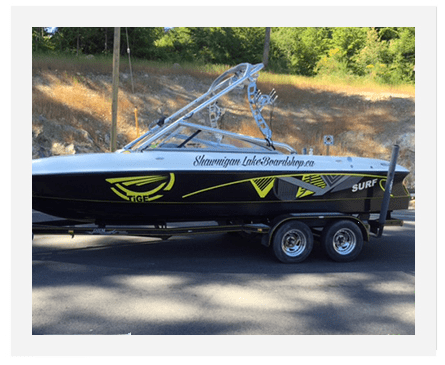 If you own a boat, chances are it's your favorite toy, so why not make that toy even more special? Perhaps your boat is suffering from the common Gel-coat fade you know where that midsection stripe is a dull memory of itself. Freshen it up like new with vinyl, a better alternative to paint. At Wrap iT Signs not only do we do boat graphics and wraps, but we also love boating too! So we get it.
Boats bring in to play other obstacles and challenges when it comes to wraps and graphics. At Wrap iT Signs we have learned the tricks and proper techniques to get a lasting boat wrap. We exclusively use 3m vinyl for our marine applications and boat wraps, and we can walk you through proper maintenance to keep that wrap lasting for years.
Recreational Toys
More than just boats, we can put graphics on just about anything. Whether you are looking to trick out that Jetski, or put some custom decals on that Motorcross bike we can help.
For you wakeboarders out there, ask us about custom automated Ballast installs for surfing or wakeboarding. We have the know-how to get you that perfect wake at the push of a button.
Give us a call and let us make your concept a reality.
These days boat wraps and graphics are a clever way to showcase and advertise one's business. We help you to grab all the necessary attention for your business you have been waiting for. In simple words, boat graphics wrap is a custom-designed wrap for your boat. This will definitely make your boat look unique on the water. The other main reason for using boat wrap is to protect one's much-loved boat's paint. It is a kind of investment which will yield higher resale value in the future for the same boat.
 Reasons to Pick Boat Wraps and Graphics
There are many hidden benefits which can probably compel you to opt for boat wraps and graphics from Wrap it Signs.
1. Low-Cost Wraps
Well, it is true; the cost of having a boat wrapped would cost a person as much as one-third of the price of painting a boat. Also, it is surely a quality covering to keep your favorite boat protected and unique.
2. Easy to Maintain
If you have got your boat securely covered by Wrap It Signs, you need not worry about its maintenance. Even after getting your boat wrapped, you can conveniently wash it adopting the usual washing method. The only thing to be kept in mind is to be cautious while using pressure washer through the edges of the boat.
3. 100% Environment-Friendly
Yes, you read it absolutely right, the boat wraps available at Wrap It Signs is 100% environment-friendly. Therefore, no harm would be caused to nature.
We wrap everything including boats
Conclusion
If you are pondering over the decision of getting your boat wrapped then Wrap it Signs is the one-stop solution for you. Protect your boat in the most unique way.