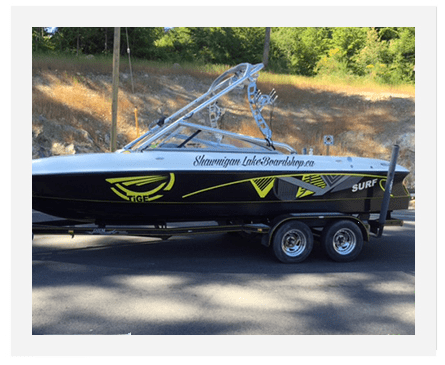 Boat Wraps & Graphics Victoria BC
If you own a boat, chances are it's your favourite toy, so why not make that toy even more special? Perhaps your boat is suffering from the common Gelcoat fade... you know where that mid section stripe is a dull memory of itself. Freshen it up like new with vinyl, a better alternative to paint. At Wrap iT Signs not only do we do boat graphics and wraps, we love baoting too! So we get it.
Boats bring in to play other obstacles and challenges when it comes to wraps and graphics. At Wrap iT Signs we have learned the tricks and proper techniques to get a lasting boat wrap. We exclusively use 3m vinyl for our marine applications and boat wraps, and we can walk you through proper maintenance to keep that wrap lasting for years.
Recreational Toys
More than just boats, we can put graphics on just about anything. Whether you are looking to trick out that Jetski, or put some custom decals on that Motorcross bike we can help.
For you wakeboarders out there, ask us about custom automated Ballast installs for surfing or wakeboarding. We have the know how to get you that perfect wake at the push of a button.
Give us a call and let us make your concept a reality.