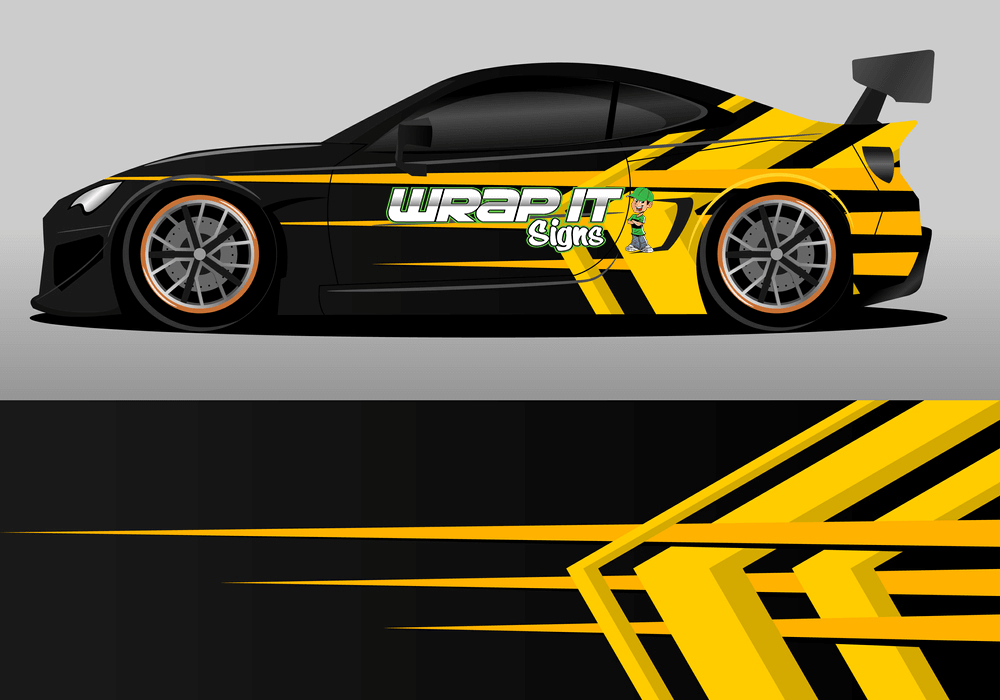 Wrap It Signs is one of the leading printing service providers in Victoria BC offering different types of services including car wrappings services. While most car wraps are made of PVC material and vinyl, there is a wide range of wrap types from which to choose and no matter what you opt for, our car wrapping services are very advantageous. Apart from being affordable, our car wraps in Victoria are long-lasting, easy to remove and they can help you protect the original car paintwork. If you are looking for high-quality car wraps in Victoria, Wrap It Signs is here for you. To help you understand, in this blog, we share the four awesome types of car wraps in Victoria.
1. Satin wrap
While satin car wrap features more glossiness compared to the matte, you may not notice any proper reflection on the wrapping surface, only the minimum amount of light can reflect. For those looking for a professional look, the satin wrap may be a great option, especially for advertising things such as computers and mobiles. Also, this option provides a combination of glossy and matte wrap, resulting in a very sleek design.
2. Glossy wrap
If you are looking for something that resembles the original and classic car paintwork, then glossy wrap may be a great option as it comes with an extremely smoother finish. Apart from that, the glossy car wrap comes in a wide range of colors and also features metallic flakes. This makes glossy car wrap a great option if you are looking to change the entire look of your car or want to make it more stylish. This is why those looking for a glossy finish on their car opt for this wrap.
3. Matte wrap
If you are looking for a surface that does not reflect light then the matte car wrap can be a great option as it is the complete opposite of a glossy car wrap. As it matte finishes to your car, this wrap can also provide a classic look to your car to make it uncommon. Also, the matte car wrap can be used for a range of designs and textures, due to this, a lot of people opt to install this wrap due to its unique style.
4. Brushed car wrap
Last but not least, classified into two different types namely brushed texture and brushed material car wrap, this material is also a unique option. While brushed texture car wrap provides a more authentic look to your car as it does not offer a sharp reflection, the brushed wrap offers easy installation to provide a new look to any car.
Visit Wrap It Signs for Printing Services in Victoria BC
So, the above-listed are some of the awesome types of car wraps in Victoria, and if you are looking for printing services in Victoria BC, then your search ends here. Wrap It Signs is a reputable and trusted printing service provider that offers a range of services including Graphics Marine Wraps, Graphics Storefront Signs, Graphics Wall Coverings, Graphics Sandwich Boards & Yard Signs Banners&Displays Business Cards, Promotional tickets, car, and Truck Graphics Wraps. Call us at 250-896-6109 or send an email atwrapitsigns@outlook.com for more information.